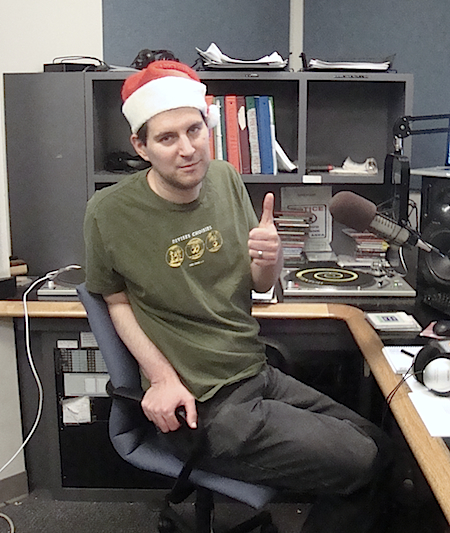 Thumbs up for Christmas!
In early December of last year I had the idea to ask a number of friends, musicians, comedians and others that I admired to record their definition of an original "Christmas story" which would then be interspersed throughout my annual 24-Hour Holiday Radio Show on 103.3 fm WPRB.
I was floored with what I received in such a short period of time, including pieces by Rick Rizzo (Eleventh Dream Day), Bill Goffrier (The Embarrassment/Big Dipper), Joel R.L. Phelps (Silkworm/The Downer Trio), Tom Scharpling ("The Best Show on WFMU"), Daniel Ralston (The Low Times Podcast), Aaron Herzog and Gregg Gethard (The Holding Court Podcast), Seth Herzog ("Late Night with Jimmy Fallon") and Ethan Sandler ("Crossing Jordan").
You can listen to almost all of those archived recordings here.
It is now mid-November 2012 and the time has come to build on last year's success! I'm not only going to be reaching out to more folks personally to record works for the marathon's 24th installment but I also wanted to extend the offer TO YOU.
Record something between now and December 19th and there's a chance it will make it into the show. It can be a reading of a favorite Xmas story, a cover of a holiday song you love or an original piece. I leave that in your hands.
It would be great if these did not exceed five minutes but if you run long…I am likely going to allow it.
For those of you I talked to who didn't reach last year's deadline, consider this a second chance!
Submissions can be sent to this email address. Please spread the word and have a happy holiday season.
Warmly,
Jon Solomon
103.3 fm WPRB