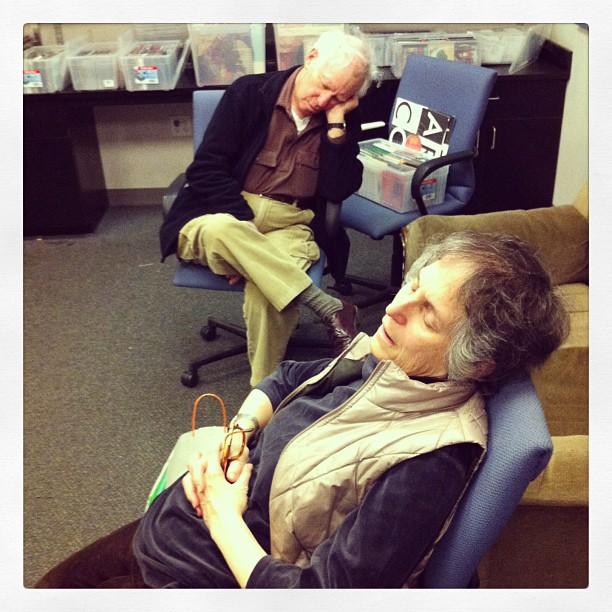 Here you'll find all the Christmas Stories recorded for the 2012 edition of the 24-Hour Holiday Radio Show on WPRB. I've posted them in the order they originally aired during the marathon.
Please click on the links provided and support these musicians, artists and talented individuals who were so kind to tape original pieces for the show. Follow them on Twitter! Like them on Facebook! Buy their records and books! Support their events!
2011's Christmas Stories can be enjoyed here.
Prowler – Bright Lights and Bellies
Philadelphia's Prowler are no strangers to the WPRB studios, having visited the station thrice to play live on Jon Solomon's weekly show. There are many different strains of their infectious, head-bobbin' tunes for free download on their Bandcamp page.
Dana Rossi – Holiday Story
Audio clip: Adobe Flash Player (version 9 or above) is required to play this audio clip. Download the latest version here. You also need to have JavaScript enabled in your browser.
Dana Rossi is the host and creator of The Soundtrack Series, a monthly event where 5-6 different people tell stories related to specific songs (I did a piece last year about Naked Raygun's "Home of the Brave"). She has also written for New York Press, Time Out New York and Slice.
David Hill – Christmas 1992 or 1993
Audio clip: Adobe Flash Player (version 9 or above) is required to play this audio clip. Download the latest version here. You also need to have JavaScript enabled in your browser.
David Hill is a writer/agitator. His work has appeared in/on Grantland, The Classical, The Awl, McSweeney's and The New York Times. The great production on this recording is by a fellow member of The Charlies sketch group, Cameron Fleming.
Jonathan Bloom – Christmas Story
Audio clip: Adobe Flash Player (version 9 or above) is required to play this audio clip. Download the latest version here. You also need to have JavaScript enabled in your browser.
Author of "Hell Is Above Us" and friend to sharks, you might also know Jonathan Bloom from his recurring role playing "Jon from Maplewood" on WFMU's "Best Show."
The King Of Jingaling – Christmas 1985
Audio clip: Adobe Flash Player (version 9 or above) is required to play this audio clip. Download the latest version here. You also need to have JavaScript enabled in your browser.
I don't know when I first discovered falalalala.com, but since 2004 it has become a crucial (virtual) meeting place for fellow Christmas music curiosity seekers – especially the site forums. The whole thing is created and managed by The King Of Jingaling, who shares a story from 25+ years gone by…
The Novenas – This Gift
Amy Morrissey not only makes great music far-too-sporadically with The Novenas, she is an excellent painter (I have a small piece of a bird she did on my bedroom door), a trapeze artist and co-owner of Miner Street Recordings in Philadelphia. I don't know how she does it all so well, but she does!
Chris Williams – A Christmas Story
Audio clip: Adobe Flash Player (version 9 or above) is required to play this audio clip. Download the latest version here. You also need to have JavaScript enabled in your browser.
Mr. Chris Williams runs Plastic Flame Press down in North Carolina and plays in the bands Maple Stave and Heather Loves Silkworm.
Matthew Callan – Eggbert
Audio clip: Adobe Flash Player (version 9 or above) is required to play this audio clip. Download the latest version here. You also need to have JavaScript enabled in your browser.
Matthew Callan finds a way to make the New York Mets interesting to me through his writing for scratchbomb.com. He's penned pieces for The Classical, Low Times, Splitsider, Vice, and McSweeney's and has also just launched a podcast called Replacement Players which I just remembered to subscribe to.
Lance Bangs & Marshall Tucker Bangs – Agent Icewrinkle & Agent Snowknuckle
Lance Bangs is a prolific and impossibly talented filmmaker and music video director who most recently brought you "The Greatest Event in Television History" on Adult Swim. He also has one of the better Instagram pages going.
He describes the above recording as "a six minute long conversation on Christmas Eve between Agent Icewrinkle and Agent Snowknuckle, two tactical 'fixers' who contract for black bag work with Santa Claus."
Jennifer O'Connor & Amy Bezunartea – I Feel Christmas
I'm not sure what's left to say about Jennifer O'Connor and Amy Bezunartea. Both are tremendous musicians who make their home on Kiam Records. They lift my spirits whenever I see'm, those two. Both have played live at WPRB on multiple occasions and I recommend you check out those sessions in the archives. First though, let them beatbox and harmonize their way into your holiday hearts.
Chris Brokaw – Let It Snow
Chris Brokaw has been a member of both Come and Codeine, not to mention a bountiful and beloved solo artist and collaborator. His proper rock album "Gambler's Ecstasy" on 12XU will soon show up on my "Best of 2012" program. Here, he whistles a favorite lil' holiday song.
Joel R.L. Phelps – The New Year 12:13 / We Three
One of my all-time favorite voices in music, Joel R.L. Phelps was a quarter of the first three Silkworm records before embarking on a remarkable solo career. There's a Facebook group for fans of his work and Joel is frequently posting wonderful demos to his Soundcloud page. Hopefully he will have some new records out in 2013.
Mac McCaughan – It's Cold Outside
The final arrival for this year's batch of Christmas Stories showed up roughly 90 minutes before I went on the air. Mac McCaughan of Superchunk and Portastatic was able to complete a cover of a 1966 song by The Choir best known due to Stiv Bators' later version of the same tune. I've considered Mac a hero in many regards for a long time now, so I was honored he could do this for the marathon.
That's it! Merry Christmas and happy holidays, everyone. Thanks for your support during the show. You made my holidays very special and I'm honored that I could be the soundtrack to yours.
Warmly,
Jon Solomon
103.3 fm WPRB